X
Returning Customer
I am a returning customer
Your Account Has Been Created!
Congratulations! Your new account has been successfully created!
You can now take advantage of member privileges to enhance your online shopping experience with us.
If you have ANY questions about the operation of this online shop, please e-mail the store owner.
A confirmation has been sent to the provided e-mail address. If you have not received it within the hour, please contact us.
Account Logout
You have been logged off your account. It is now safe to leave the computer.
Your shopping cart has been saved, the items inside it will be restored whenever you log back into your account.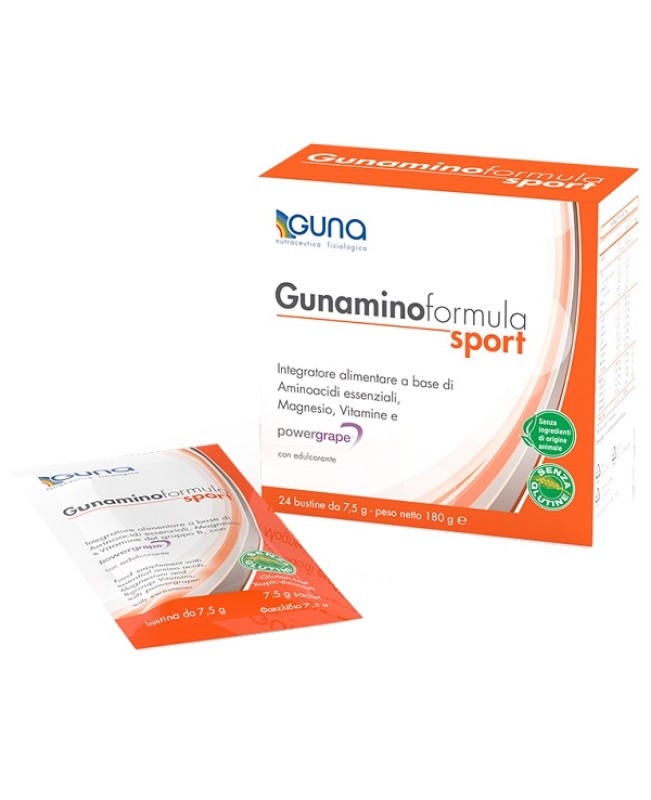 Gunamino Form Sport 24bust
Brand:

GUNA SpA

Availability:

In Stock

Product Code:

931928028
Gunaminoformula
sport
Integratore alimentare per sportivi, con specifica formulazione,costituito da 8 amminoacidi essenziali, magnesio e vitamine del gruppo B, conpowergrape.
Grazie alla sua particolare associazione amminoacidica, GUNAMINO Formula SPORT soddisfal'esigenza di ogni sportivo e garantisce un'integrazione ideale in quanto gli 8amminoacidi essenziali sono miscelati in un rapporto che equivale allo stesso rapportopresente nell'organismo umano.
Di conseguenza, Gunamino formula sport viene riconosciuto immediatamente dall'organismo eassorbito in pochi minuti, produce solo minime scorie azotate e non sovraccarica reni efegato ed infine fornisce, nel minor peso e volume, il massimo valore proteico rispettoad ogni altro alimento.
La grande novità di Gunamino formula sport è powergrape, uno specialeestratto vegetale di uva che, grazie alla sua spiccata attività antiossidantemigliora la performance atletica e la capacità di recupero, contrasta i radicaliliberi prodotti durante lo sforzo fisico e protegge i muscoli dal rischio di lesioni.
Completano la formula il magnesio che sostiene la funzione muscolare ed è utile incaso di crampi muscolari e le vitamine del gruppo B, che contribuiscono al metabolismoenergetico.
Gunamino formula sport unitamente ad un corretto regime alimentare e un adeguatoallenamento, aiuta a:
- massimizzare la forza, la resistenza e la massa muscolare
- migliorare la performance sportiva
- accelerare i processi di recupero sia dopo gli allenamenti che dopo le competizioni
- proteggere l'organismo dallo stress ossidativo.
Modalità d'uso
Si consiglia l'assunzione di una bustina al giorno.
Sciogliere il contenuto di una bustina in 500 ml di acqua o succo di frutta o altrabibita e mescolare bene.
FITNESS
: 1 bustina mezz'ora prima della seduta di allenamento associata alfabbisogno di vitamine, sali minerali, oligoelementi e zuccheri.
ATLETA AGONISTA
: 1 bustina mezz'ora prima della seduta di allenamentoassociata al fabbisogno di vitamine, sali minerali, oligoelementi e zuccheri ed 1 bustinadurante il pasto successivo alla seduta di allenamento, e senza trascurarel'apporto di frutta e verdura.
Ingredienti
Miscela di aminoacidi essenziali (L-leucina, L-valina, L-isoleucina, L-lisina cloridrato,L-fenilalanina, L-treonina, L-metionina, L-triptofano), maltodestrine; correttore diacidità: acido citrico; ossido di magnesio, Powergrape(
vitis vinifera
l.frutto estratto secco), aroma; emulsionante: esteri di saccarosio degli acidi grassi;edulcorante: sucralosio; cianocobalamina (vitamina B12), riboflavina-5'-fosfato,sodio(vitamina B2), cloridrato di piridossina (vitamina B6), cloridrato di tiamina(vitamina B1).
Valori nutrizionali
Valori medi
per 1 busta
%VNR*
Valoreenergetico
27 kcal
116 kJ
-
Grassi
di cui acidi grassi saturi
0,01 g
0g
-
Carboidrati
di cui zuccheri
1,31 g
0,10 g
-
Proteine
0 g
-
Sale
0 g
-
L-leucina
1.000 mg
-
L-valina
800 mg
-
L-isoleucina
750 mg
-
L-lisina
700 mg
-
L-fenilalanina
650 mg
-
L-treonina
550 mg
-
L-metionina
350 mg
-
L-triptofano
200 mg
-
Magnesio
150 mg
40
Vitamina B2
1,4 mg
100
Vitamina B6
1,6 mg
100
Vitamina B1
1,1 mg
100
Vitamina B12
2,5 µg
100
PowerGrape
200 mg
-
*Valori Nutritivi di Riferimento ai sensi del Reg. UE 1169/2011
Avvertenze
La data di scadenza si riferisce al prodotto correttamente conservato, in confezioneintegra.
Tenere fuori dalla portata dei bambini al di sotto dei 3 anni di età.
Gli integratori non vanno intesi quali sostituti di una dieta varia, equilibrata e di unostile di vista sano.
Non utilizzare in gravidanza e nei bambini, o comunque per periodi prolungati senzasentire il parere del medico.
Conservazione
Conservare il prodotto in luogo fresco, asciutto e al riparo dalla luce.
Formato
Confezione da 24 e 42 bustine da 7,5 g l'una.